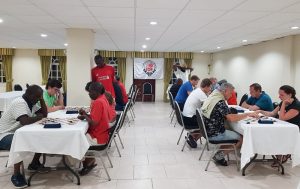 The Barbados Draughts Association and the Barbados Checkers and Draughts Federation held the traditional Barbados World Class Checkers & Draughts Festival from October 1 to 7. Within the framework of the festival, checker events were held: the World Qualification Tournament for men, the world championships for women and youth, the match for the title of world champion in checkers, as well as 3 international draughts-64 tournaments (Russian, Brazilian, Pool Checkers) and other events. The winners of the draughts-64 tournaments were international master Dmitrii Melnikov and international grandmaster Vladimir Langin (both Russia).
Photo    
Russian Draughts      Brazilian Draughts      Pool Checkers      Closing      Excursion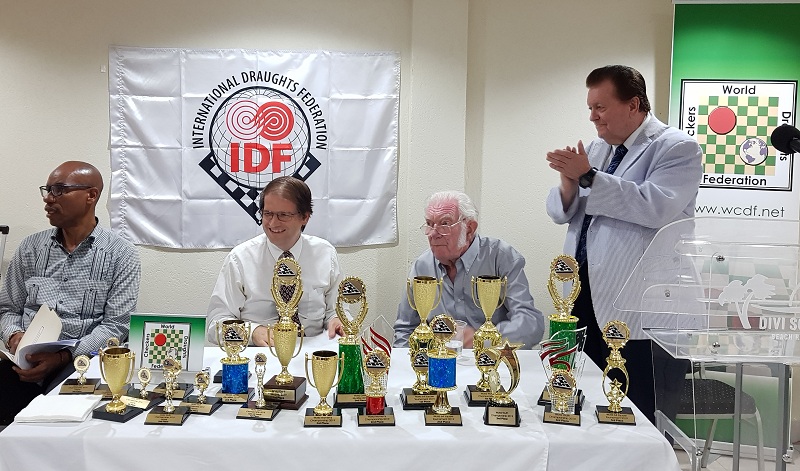 Draughts-64 competitions were held jointly with the International Draughts Federation (IDF). Each draughts-64 competition was attended by 16 players from 5 countries: Barbados, South Africa, Ukraine, Germany and Russia. Among them are famous athletes: international grandmaster Vladimir Langin, international masters Vadim Lapin (Ukraine), Dmitrii Melnikov and Kirill Dublin (Russia), famous master from Germany Igor Martynov, winners and medalists of youth and women's competitions, IDF masters Tatyana Zaytseva (Ukraine) and Anna Filipenko (Russia).
The competition was attended by the famous multiple world checker champion Ronald King from Barbados. After the end of all festival programs, he will play a match from October 10 to 18 for the title of world champion in checkers with the current world champion, Italian Sergio Scarpetta.
Ronald King already had experience in playing draughts-64, having taken part in the 2013 World Championship in St. Petersburg (Russia), in the first Pan American Championship, held in Jamaica in February 2018, and in the past year in draughts-64 competitions in Barbados. Following the results of his performance in these tournaments he was awarded the title IDF Master.
It should be noted the debut in the competition of the representative of South Africa Nonyukela Melikaya, who, despite the lack of experience, showed an interesting, original game and created many problems for the leading players.
During the competition, meetings were held with the leadership of the World Checkers Draughts Federation, as well as two draughts organizations – the Barbados Draughts Association and the Barbados Checkers and Draughts Federation. At the meetings, joint projects, the development of draughts-64 in Barbados and the holding of draughts-64 tournaments of various levels in the coming years were discussed. A number of preliminary agreements have been reached.
Winners of draughts-64 tournaments are:
Russian Draughts:
IGM Langin Vladimir (Russia)
IM Melnikov DmitrII (Russia)
IM Dublin Kirill (Russia)
Brazilian Draughts:
IM  Melnikov Dmitrii (Russia)
IGM Langin Vladimir (Russia)
WFM Zaytseva Tatyana (Ukraine)
Pool Checkers:
IM Melnikov Dmitry (Russia)
IM Lapin Vadim (Ukraine)
IGM Langin Vladimir (Russia)
Winners in the overall standings of three tournaments:
IM Melnikov Dmitry (Russia)
IGM Langin Vladimir (Russia)
IM Lapin Vadim (Ukraine)