Section-64 FMJD, Draughts Federation of Chelyabinsk region, Chelyabinsk Sports School of Olympic Reserve by Chess and Draughts in accordance with the calendar of the Section-64 competitions in 2012 holds from March 5 (day of arrival) till March 13, 2012 in Chelyabinsk (Russia) the International competitions on draughts-64 in memory of Grandmaster E. Stepanov among men and women – World Cup.
Results
International competition memory E. Stepanov, 1st World Cup in draughts 64 won Alexander Shvartsman (Russia), 2nd place – Sergey  Belosheev (Ukraine),3rd place – Oleg Dashkov (Russia)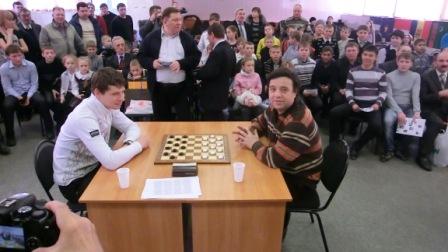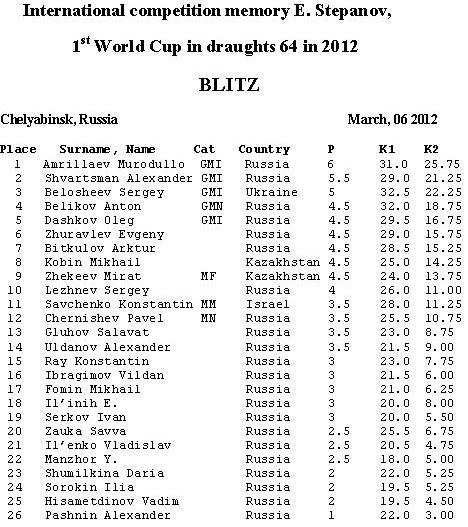 Regulations
Competitions will be held on the Russian version of draughts-64 for two types of programs: the classic game – with time control 45 minutes before the end of the game, the blitz game with time controls 3 minutes before the end of the game.
Blitz program and opening ceremony will be March 6. Round I will be March 7, at 12-00.
Participants are allowed to participate, claimed by their national federations.
Immediately upon arrival at the competition each participant pays an organizational entry fee 1000 rubles for participation in the program with classical time control and 200 rubles for the blitz program. All expenses for participants are paid by sending organizations.
The prize fund is at least two thousand dollars.
Requests to participate must be submitted to the Draughts Federation of Chelyabinsk region no later than February 25, 2012 at [email protected] or call +7 9191190720.
During the tournament will be held awarding ceremony of "World Draughts Oscars" by the results of 2011 (information published on this site and site www.shashki.org).
The turnout and registration at: Russia, Chelyabinsk, ul.Vasenko 100.
Contact:
In Chelyabinsk:
Shonin Alexey, e-mail: [email protected], mob. +7 9191190720;
Nikolaev Evgeny, tel / fax: 8-351-2661867
Full information about tournament see on the www.shashki.org