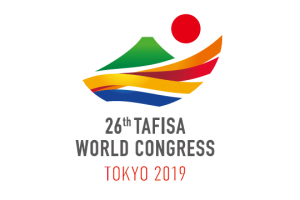 The 26th TAFISA World Congress was held in Tokyo (Japan) from November 13 to 17, 2019 and brought together more than 600 participants from 78 countries. Read more HERE
On 15 November, during the 26th TAFISA World Congress, the TAFISA General Assembly was held. General Assembly approved the Malaysia Sport for All Association (MASFA) and the city of Kuching, Sarawak (Malaysia) as organizers of the 1st TAFISA Asian Sport for All Games 2022. The German Olympic Sport Confederation (DOSB) was confirmed as the host of the 28th TAFISA World Congress 2023 in Düsseldorf. The General Assembly also elected the Russian Olympic Committee to host the 8th TAFISA World Sport for All Games 2024 in Nizhny Novgorod (Russia). The 2nd TAFISA European Sport for All Games 2022 will be organized by the Italian Federation of Traditional Sports and Games (FIGEST) in Umbria (Italy). The representative of Portuguese TAFISA member organization, the Portuguese Institute of Sport and Youth (IPDJ), made a presentation on the preparation the 7th TAFISA World Sport for All Games 2020 in Lisbon, Portugal.
Read more HERE
PHOTO    Opening  |  General Assembly  |  Closing  |  Tokyo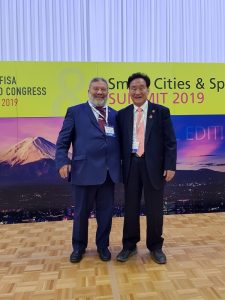 The IDF leadership took part in the 26th TAFISA World Congress and the General Assembly.
Meetings were held with the leadership of TAFISA and representatives of sports organizations from various countries.
In the photo, IDF President Vladimir Langin with TAFISA President, Professor Ju-Ho Chang.