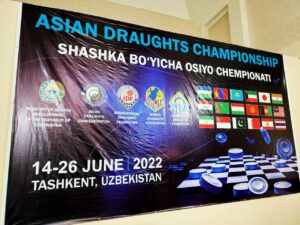 From June 14 to June 26, Tashkent, the capital of Uzbekistan, hosts the Asian Championship in draughts 64, 100 and Turkish draughts. Draughts-64 competitions are held from 14 to 21 June.
Competitions are held in three programs: Classic, Rapid and Blitz in all age categories: men, women, veterans, juniors (boys and girls) up to 23 and 20 years old; boys and girls up to 17, 14, 11 and 9 years old.
More than 200 players take part in draughts-64 competitions.
Regulations, schedule, results and photos published on the website of the Asian Draughts Confederation. See current results.