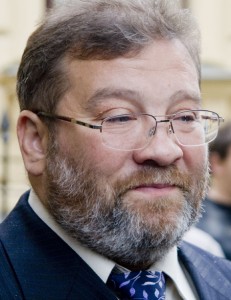 New Year's greetings of Vladimir Langin, President of the International Draughts Federation IDF — FMJD Section-64
Dear friends!
On behalf of the International Draughts Federation IDF — FMJD Section-64 and I personally congratulate draughts players, coaches, organizers, officials and all fans of draughts on the New Year and Christmas!
It became a good tradition before the New Year to think about our past achievements and share plans for the future.
Last year was a new starting point in the development and establishment of draughts on a 64-cell board. A great job was done, which resulted in the registration of the International Draughts Federation IDF.
Registration took place in accordance with the decision of the General Assembly of the FMJD Section-64 (14.09.2012, Evpatoria, Ukraine) to create a legal entity of Section-64, to ensure full cooperation with sponsors, authorities and various international organizations.
International Draughts Federation IDF officially registered June 5, 2013 in Bulgaria, opened a bank account, office started activities.
International Draughts Federation IDF is a fast growing and dynamic organization that sets the big tasks. We plan to unite under our auspices and develop various kinds of draughts on a 64-cell board, presented in almost all countries of the world.
This scattered now draughts-64 will unite under one umbrella organization and progressively move forward, with the help, support and best practices with each other.
There is a large amount of work: improving the material and technical base of the sport, the publication of educational materials in different languages, creation of training sites and distance learning opportunities, online conferences, games, tournaments, a significant increase in the level of holding of competitions and prize funds.
Fund to promote draughts sports «Russian Draughts» was created for the implementation of these global challenges. Above the fund is formed Board of Trustees, which is headed by Deputy Secretary of the Russian Security Council E.V. Lukyanov. Council members — the head of the Russian Federal Agency for CIS Affairs, Compatriots Living Abroad and International Humanitarian Cooperation (Rossotrudnichestvo) K.I. Kosachev and president of the Russian Union of Insurers I.Y. Jurgens.
World Championship in Draughts-64 among men and women in St. Petersburg in August 2013 became the first event featuring established fund. In the first representatives of 35 countries from 4 continents from Europe, Asia, Africa and America participated in the championship. The prize fund of the championship for the first time in the history of draughts-64 amounted to 2 million rubles (approximately EUR 50 000).
The World Cup has been further developed, which 8 stages took place in Russia, Italy, Czech Republic and Ukraine. 180 athletes from 18 countries participated in all stages. The total prize fund of the World Cup was more than 10 000 Euros. Six-time world champion Harm Wiersma and four-time world champion Anatoly Gantvarg arrived at the opening of World Cup Final in St. Petersburg. They actively support draughts-64 in the world.
Uzbekistan holds Asian Championships for adult and youth perfectly.
European and World Youth Championships in Belarus and Bulgaria were held at a high level also.
Total in official competitions of the International Draughts Federation IDF – FMJD Section-64 in 2013 took place over 900 players from 42 countries!
Many new countries from Europe, Africa, America and Asia joined our organization, and we constantly interact with more than 60 countries of the world.
Official English-language website of the International Draughts Federation IDF — Section-64 FMJD is actively developing. The news about draughts-64 activities are watched by fans from 148 countries! We are known in the most remote corners of the globe now.
In 2014 we expect positive changes. We do a great deal of work to establish international contacts, involvement in our organization new countries.
World Cup will be further developed: other than Russian stages, stages of World Cup planned in Italy, Czech Republic and Portugal with the inclusion of these tournaments Italian, Czech and Portuguese Draughts respectively. The scoring system will be changed. The prize fund will be increased.
European Championships in draughts-64 among men and women for the first time will be held in St. Petersburg. Competitions will be held to high standards and with great prizes.
We solve the question of holding in 2014 match for the title of world champion in draughts-64 with a good conditions and prizes.
We will also steadily magnify the logistical and informational level of draughts-64. We will have new activities and projects for the development of draughts-64 in the world.
I wish health, success and the implementation all plans to you and prosperity to our beloved sport!