European Youth Championship in Draughts-64 will be held from 20 (arrival day) to 29 (departure day) April 2016 in St. Petersburg, Russia, at hotel "Okhtinskaya", Bolsheokhtinsky prospekt d. 4.
About Okhtinskaya hotel***, Saint-Petersburg
«Okhtinskaya» is one of the largest *** hotels in St. Petersburg and in the North of Russia region. The hotel is located in the historical center of St. Petersburg, on the Neva embankment. There is a splendid panoramic view on Neva river, Smolny Convent and three open-bridges from observing desk, room windows, hotel halls.
Hotel complex «Okhtinskaya» favorably is ideally situated. It is located in 10-15 minutes from the centre of St. Petersburg, of railway stations and four subway stations. There is a River pier and stop of Urban water taxi nearby the hotel (50 meters). Hotel « Okhtinskaya » provides comfortable hotel rooms, qualified personnel, high quality of service and a wide range of additional services.
Hotel consists of 293 rooms of categories «Standard», «Business», «Studio», «Suite», with single, double and triple accommodation. Free WiFi and free TV channels movies are in all rooms. Bright and cozy rooms of « Okhtinskaya » are equipped by all necessary things and furniture, depending of the category: noncontact electronical lock keys, furniture, TV, mini-bar, air conditioning, mirror, telephone, shower or bathtub, towels, hair dryer, toiletries, etc.
From the hotel to the Plaza Rebellion runs a free shuttle runs from the hotel to the Plaza Vosstania. Around the hotel is a stop public transport. The nearest metro stations are "Novocherkasskaya", "Chernyshevskaya", "Ladoga" – 10 minutes by public transport.
Rooms:
Double (twin) standard: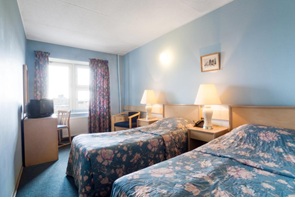 The bright, cozy rooms are decorated in Scandinavian style with a view from the window of the Smolny Cathedral, Bolsheokhtinsky bridge or a quiet courtyard. Located from 5th to 8th floor of the hotel. Area: 15 m2. Rooms with two beds (90) or with a single bed (160). The room: bed, bedside tables, wardrobe, desk, chair, TV, mirror, telephone, toilet, shower and toiletries.
Double (twin) superior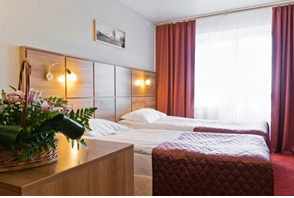 Comfortable rooms with modern and comfortable furniture of two types decorated in delicate shades of pistachio and golden terracotta color. All rooms are equipped with modern LED TVs, wireless Internet access, minibars, hair dryers and satellite TV. Each room has double-glazed windows. On the sunny side mounted air conditioners with individual control. The comfortable bed with a mattress on the basis of the spring block Bonnell can be transformed in double rooms in bed «Kingsize»; curtains, do not let the light (black-out) and hypoallergenic linens. Area: 17 m2.
The room: bed, bedside tables, desk, chair, wardrobe with mirror, telephone, mini-bar, air conditioning (sunny side), toilet, shower, TV, toiletries, hairdryer.
On the floors are installed cooler with drinking water with the possibility of heating. The hotel has a freely available utility room for ironing.

Prices for the participants of the European Youth Draughts-64 Championship
Accommodation and three meals a day from 20 April (Lunch) to 29 April (Breakfast) 2016. Total 9 days
Accommodation in the rooms:
Double "standard" + three meals a day       1700 rubles / person
Triple "standard" + three meals a day       1600 rubles / person
Double "business" + three meals a day       1900 rubles / person
If necessary, single price per room is:
Single "standard" + three meals a day       2150 rubles
Single "business" + three meals a day       2650 rubles
For foreign citizens (including Belarus) requires registration. Price is 150 rubles / person
Three meals a day included in the price for living (Hall Bolsheokhtinsky)
Breakfast       Buffet 7.00-11.00
Lunch           Serving 13.00-15.00
Dinner          Serving 13.00-15.00
Admission the participants is according to the official rules of competition in draughts-64 and conditions of the official competitionof the International Federationin in 2016-2018
ROOMS FOR EVENTS
Hall "Assembly" – games room
Hall "Forum" – a room for registration of participants, for judges