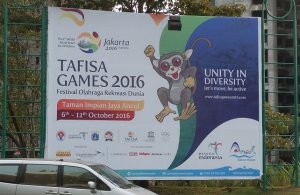 VI TAFISA World Sports Games completed. 12,000 athletes from 87 countries in 62 sports participated in the competition.
The competition was held under the patronage of the IOC, TAFISA and UNESCO. At the opening ceremony, which took place on October 8 at the famous Anchol Park, World Sports Games opened Indonesian President Joko Widodo, the participants welcomed the President of TAFISA, a representative of the IOC and other officials.
Draughts-64 the first time was present in this global world sports forum. 3 programs of competitions in draughts-64 (Russian and Brazilian version) was held from 7 to 9 October. 10 and 11 October representatives of our delegation participated in various activities of the TAFISA  World Games. 11 October evening was held the official closing of the games.
IDF President Vladimir Langin with TAFISA president Prof. Dr. JU-HO CHANG (Korea) and General Secretary Mr. WOLFGANG Baumann (Germany)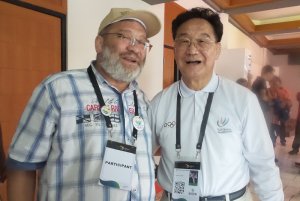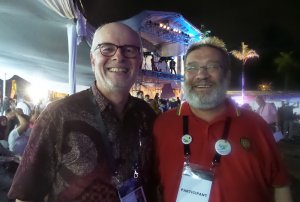 It is worth noting the excellent organization of the games. Each organization had its own officer, who promptly solved all problems, as well as a bus for the transfer to the venue, other activities and at the airport.
All participants except for official awards and prizes from the IDF (the prize fund was of US $ 15,000), received gifts, souvenirs and certificates from the organizers of the TAFISA World Games.
See results of tournaments in draughts-64 and photos on the tournament page  HERE
Goodbye Jakarta! The next VII TAFISA World Sport Games will be held in Lisbon (Portugal) in 2020.