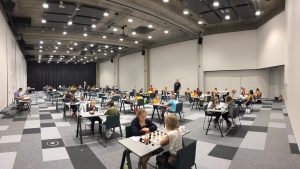 From June 17 to 21, the first competition after the break in connection with the coronavirus was held in Latvia – the Latvian Youth Draughts-64 Championship among boys and girls in the age groups U8, U10, U13, U16 and U19/U26.
Competitions were qualifying for the youth World and European championships. 90 best young players, representing all the strongest players of Latvia, fought for the titles of champions in Classic program and over 140 players in the Blitz program.
The championship was organized by the Draughts School "Domatprieks" together with the Latvian Draughts Federation (LDF)
Competitions were held in two programs: Classic and Blitz.
Time control: 40 '+ 10″ in the Classic program and 3' + 2″ in the Blitz program.
All competitions were held according to the system of micro-matches.
Competitions in all age groups of classic program were held according to the round robin system. Three winners in each age group will receive the right to represent Latvia at the European and World Championships.
More than 140 participants took part in the Bitz program. Competitions were held according to the Swiss or round robin system depending on the number of participants.
Prizes for the winners were provided by Mollers Dobbel, Livol multi and the Draughts School "Domātprieks".
Information on the site of Latvian Draughts Federation (LDF)
Results. Classic program 
Boys   U8 | U10 | U13 | U16 | U19/U26   
Girls   U8 | U10 | U13 | U16 | U19/U26
Results. Blitz program 
Boys    U8 | U10 | U13 | U16 | U19/U26