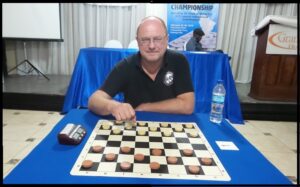 Today, June 24, 2023, one of the strongest draughts players in the world, international grandmaster Arunas Norvaishas, suddenly passed away.
Arunas Norvaishas (lit. Arūnas Norvaišas) was a Lithuanian player specializing in draughts-64.
He was born on October 15, 1963 in Siauliai, USSR, Lithuania. He died on June 24, 2023 in Vilnius, Lithuania.
Champion of the USSR in Russian draughts in 1985, bronze medalist of the USSR championships in 1987 and 1988, multiple champion of Lithuania in draughts-64.
Master of Sports of the USSR (1978), Grandmaster of the USSR (1987), International Grandmaster (2016).
2015 World Champion in Brazilian draughts (rapid),
Bronze medalist of the 2022 World Championship (Blitz)
2018 European Champion (Blitz)
Bronze medalist of the 2021 European Championship.
Arunas Norvaishas has been sharing his experience with young Lithuanian players for many years.
The International Draughts Federation expresses its condolences to his family, friends and all Lithuanian draughts players. The untimely death of this outstanding sportsman is a great loss for the entire draughts movement.
Condolences from IDF President Vladimir Langin
My close friend has passed away! A whole era of draughts, a particle of our youth, has gone with him. We met Arunas in 1978 at the Youth USSR Championship in the Uzbek city of Chirchik.
Since then, we have been very good friends, often met, played in draughts competitions.
Arunas visited me in St. Petersburg, I'm in Lithuania. Arunas supported me in my draughts endeavors, he could call after midnight. He played a lot and with pleasure in IDF competitions in Italy, Bulgaria, Russia, Jamaica, Estonia, Georgia… Together we worked in the Ed Parchment Foundation. Arunas really wanted to play at the last European Championship in Turkey in April 2023. He was with us in Alanya, until the last he was waiting for permission to play, but … he never did. And he had 1.5 months to live …
Bitter. Emptiness. I will not hear any more of his humor, or his figurative, sharp and capacious construction of phrases.
FAREWELL, ARUNAS! RIP IN PEACE!