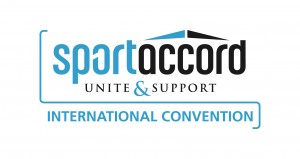 In St. Petersburg,  the work of the International Convention SportAccord  completed. Today, May 31, the General Assembly of SportAccord was held, where SportAccord presidential elections took place  – in place of the retiring Hein Verbruggen. President of the International Judo Federation Marius Vizer became the new president of SportAccord.
May 28, president of FIDE Kirsan Ilyumzhinov was unanimously elected president of the International Association of Mind Games (IMSA)
The full result of the election is as follows:
Kirsan Ilyumzhinov: President
Harry Otten : Deputy President
Thomas Hsiang : General Secretary
Marc de Pauw : Treasurer
Gianarrigo Rona : WBF Representative
SportAccord Convention was held in St. Petersburg, Russia, 26-31 May, 2013.
SportAccord Convention is a 6-day gathering of over 2000 leading representatives from international sport. Held in a different country each year, it encompasses the Congress and General Assemblies of 3 Associations who members consist of over 100 International Sports Federations (IFs) and member Associations.
See more information about the SportAccord Convention HERE 
Daily information see HERE