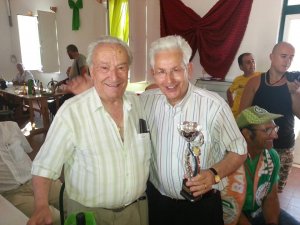 Portuguese Championship in Portuguese draughts with classical time control was held from 9 to 12 June. 21 players took part in the competition. The competition was held on the Swiss system in 8 rounds with control of 90 minutes for 4 games. Champion of Portugal has once again become a multiple champion of Portugal, national and international grandmaster Manuel Vaz Vieira. See the results and interviews.
During the 1st Stage of World Cup in Setubal (Portugal) Manuel Vaz Vieira gave an interview to the General Secretary of IDF Antonina Langina.
We publish an interview with descriptions of draughts and the best player in Portugal.
1. How did you start to play in draughts (when and under what circumstances)?
I started playing at a school in Mozambique, at the insistence of my father, the eternal memory of him. Father – his name was Alberto – very proud of my ability, and imagine himself suggested adult players to play with me. And they praised me very much.
2.What victory do you remember most?
  It is difficult to choose which one is the best victory imprinted in my memory. It must be the 5th consecutive championship of Portuguese federation – celebration took place in the magnificent restaurant of Coimbra City Stadium with the participation of local authorities, the media and friends. This was 1985 year. But first World Cup in classic (Portuguese) draughts, organized by the IDF … The first World Cup – is always the first, and I am proud to repeat, oh, damn! pardon the expression, I won it!
3.Tell an interesting story from your life relating to the draughts.
Still makes me laugh one incident (amazing, I must say, jokes joking with my memory … or is it memory lapses?), which took place in Porto. There's a woman sold pieces for draughts, very funny pinned our Coimbra player named João de Jesus. He wanted to buy a fair amount of pieces and began to beg discount, whined that it was not for him, and for the Association of voluntary fire – and so took the poor thing, that having made him a substantial discount, she asked innocently: "And that, my friend, you in Coimbra extinguish the fire by pieces for draughts?"
4.What role occupied draughts in your life today (the main type of activity, a hobby in the evenings, the meaning of life, etc.)? How does your family think about draughts and your passion of them?
 Almost every day I go to the club of the Christian Youth Association – I teaching there in the children's section and in draughts youth school. Before going to bed I certainly need to sit on the board – draughts for me are the best sedative and hypnotic. I am a very disciplined person by nature, I have no problem with the distribution of time. My grandchildren love to play with me, granddaughter Matilda is my teacher, she asks me lessons and tests "homework" with the utmost rigor, and the grandson Diogo constantly beats me in football.
5.How do the draughts on the relationships between people?
The International Draughts Federation (IDF) and the Portuguese Draughts Federation (FDP), through its energetic leaders agreed to hold a competition in Portugal, allowing players from different countries to meet and make friends. Especially worth mentioning Russian players – they are cultural and disciplined. I often think of IDF President Vladimir Langin phrase, that we built a real bridge of friendship between Lisbon and St. Petersburg. I myself, at the invitation of Mr. Langin had the honor to participate in the celebrations of Victory Day in St. Petersburg and the pleasure to witness the magnificent city and get to know its hospitable people!
6. To have a value in which game to play – Russian or Portuguese draughts? If so, what?
Both options are equally important and have historical, cultural and scientific roots. The works of the classical (Portuguese) draughts were published as early as in the XVI-century, to take at least a treatise Pedro Ruiz Montero, which was released in 1591. As to the new time, at the last 50 years, the Portuguese players and theorists create a real treasure: 5,000-page "encyclopedia of draughts", where there is no analogues in the world! I am proud to have been involved in this work.