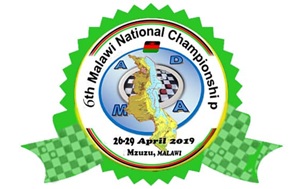 The Association of Draughts in Malawi ADMA successfully conducted from 26 to 29 April, 2019 the most important national events 2019 in the city of Mzuzu at Mphatso Motel as planned.
Finally 40 players went into a strong 6th Malawi National Championship in which top 5 was identified to represent Malawi in the forthcoming World Championship. International Master Moses Winesi won championship.
International Master Moses Winesi jealously defended the championship amassing 15 points with unbeaten record. He won his fellow International Master Enock Banda, African best in World Championship 2015, who finished on 4th. Moses played in draw with IDF Master Madalitso Thom, African best in World Championship 2017, who became silver medalist in this national championship. On number 3 was Humble C Bondo, a surprise to many and Solobala Gama finished on position 5.
This is the top five that Malawi has entrusted to be the flag carrier at the World Championship in Bulgaria come September this year.
During the national championship the grand Elective AGM was conducted which culminated into electing new ADMA leadership. The Association has new President in the name of Mr John Ngwenya from Capital City of Malawi, Lilongwe.
Later all players went through a rigorous training which refreshed athletes with new rules and regulations for the game, this has helped players to be alert on the new rules ahead of the world championship in the city of Sveti Vlas, Bulgaria from 1st September to 10th September 2019.