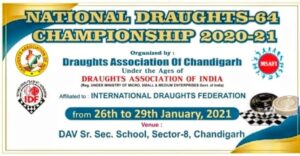 The National Draughts Championship of India 2020-2021 took place as planned from 26th to 29th January 2021 at DAV SR. SEC. SCHOOL, SEC-8, Chandigarh (India).
Competitions were held in age groups U-8, 11, 14, 17, 19 (boys and girls).
Participants: 105
Total state: 9
(PUNJAB, HARYANA, UTTARAKHAND, UTTAR PRADESH, MADHYA PRADESH, RAJASTHAN, WEST BANGAL, MAHARASHTRA, HIMACHAL PRADESH).