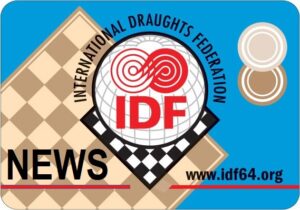 Dear national federations, draughts players, coaches, organizers and all draughts fans!
We inform you that the International Draughts Federation (IDF) and the World Draughts Federation (FMJD) have signed a long-term cooperation agreement.
For the development of draughts-64 all over the world, the parties unite under the FMJD brand and delimit the areas of activity.
The IDF becomes the only legitimate structure within the FMJD that will develop draughts-64 under the FMJD brand and its own brand (Russian draughts, Brazilian draughts, pool checkers, Portuguese draughts and other varieties of draughts-64, with the exception of Checkers, Italian, Czech and Turkish draughts).
At the same time, IDF works within the FMJD separately:
IDF has its own members and its own membership fees, holds its own general assemblies and chooses its own leadership, independently conducts its sports and economic activities, independently assigns titles and calculates ratings.
IDF and FMJD will cooperate in various areas of draughts development, including jointly holding major events involving various types of draughts (such as IMSA and GAISF games, etc.).
Thanks to the efforts of the leadership of both federations, the period of crisis has been overcome.
This important event in the draughts world will consolidate the draughts community and will raise the development and prestige of our sport to a new level.
See the calendar of competitions on the IDF website HERE
In the near future, the calendar will be published on the FMJD website in the calendar section  HERE