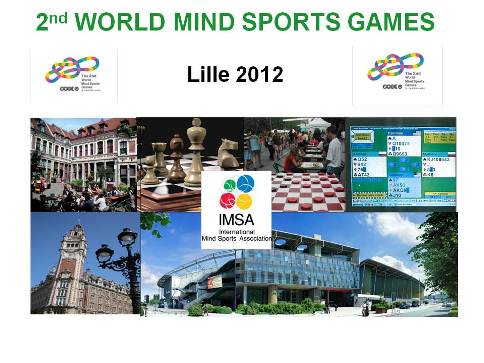 22-08-2012
Blitz tournanents was played today.
Final standing men        Final standing women
List of players men        List of players women
21-08-2012
Kolesov Gavril, Germogenov Nikolay and Dashkov Oleg won WMSG-64 among  men.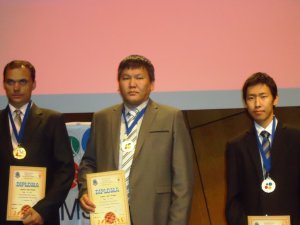 Makarenkova Juliia, Kirillina Stepanida and Sarshaeva Zhanna won WMSG-64 among women.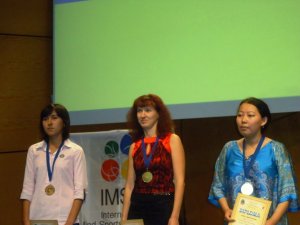 Congratulations! 
Photos       Photos from awarding ceremony
Result men (after round): 1 | 2 | 3 | 4 | 5 | 6 | 7 | 8 | Final standing
Games men (9 rounds): pdn | rtf
Result women (after round): 1 | 2 | 3 | 4 | 5 | 6 | 7 | 8 | Final standing
Games women (9 rounds): pdn | rtf 
16-08-2012
list of players men | list of players women
Men 1 round | Women 1 round |
12-08-2012
Regulations of competitions
Regulations engl          Regulations rus
04-08-2012
Information about registration
Arrival day is Wednesday, 15th of August. Please come to FMJD office at Lille Grand Palais (Espace Jeanne de Flandre). You will pay your fees and will receive your badges and you can see playing hall. We are waiting for you from 15:00 untill 19:00.
If you can not arrive on registration at this time, please inform us in advance about your participation by e-mail [email protected].
All participants need to be in playing room at 9:30, 16th of August. Not later!
 Rules
The 2nd World Mind Sports Games will take place at Lille, France, in "Grand Palais" from 9th to 23rd August 2012.
The following disciplines of Draughts-64 will be included into the WMSG-2012(all separately for men/women):
WMSG competitions –
WMSG Blitz individual
Competitions among men are held by the Brazilian version of draughts-64.
Competitions among women are held by the Russian version of draughts-64.
The Executive Board of the Section 64 FMJD has agreed to nominate in the 2nd World Mind Sports Games 2012:
1. WMSG competitions among men:
The World Men Draughts-64 Championship 2012      
2. WMSG competitions among women:
The 1st World Cup in Draughts-64 for women 2012
Participants
Section 64 FMJD invite all countries to participate in these events. According the decision of the Section 64 personal places have:
Dashkov Oleg (Russia) World champion 2011; Fedorova Natalia (Russia) World champion 2011.
The following countries have the right to send two players:
For men: Belarus,Brazil,France,Kazakhstan,Moldova,Lithuania,Poland,Russia,Ukraine
For women: Belarus,Moldova,Russia,Ukraine,Uzbekistan,
Other countries may to send one player in both men and women.
Countries wishing to enter more players can request extra places. Additional players will be placed on the reserve list.
Applications for participation in competitions must be submitted to the Section 64 until April 30, 2012. The final list of participants will be formed before May 7, 2012.
We require all necessary data of players who need an invitation for visa applications not later than April 27th 2012.
System of competitions is Swiss.
All competitions are held by the system of micro-matches consisting of two games with the draw according to the official tables of FMJD Section-64 for men and the draw of the first move of the white for women binding on both games of the micro-match.
Time control:
WMSG competitions: 45 minutes till the end of the game plus 10 seconds on each move;
Blitz: 3 minutes till the end of the game plus 3 seconds on each move.
Financial conditions
Travel expenses, accommodation and meals paid by sending organizations, as no sponsorship is available from IMSA.
Inscription fee in WMSG competitions is €100 (Euro) for each player;
Inscription fee in WMSG blitz is €20 (Euro) for each player.
Schedule:
Date

Day of the week

Time

Event

15th August
Wednesday
15.00 – 19.00
Registration of participants
16thAugust
Thursday
10.00 – 13.30
1 Round
14.30 – 18.00
2 Round
17thAugust
Friday
10.00 – 13.30
3 Round
14.30 – 18.00
4 Round
18thAugust
Saturday
10.00 – 13.30
5 Round
14.30 – 18.00
6 Round
19th August
Sunday
 
Free day, General Assembly
20thAugust
Monday
10.00 – 13.30
7 Round
14.30 – 18.00
8 Round
21stAugust
Tuesday
10.00 – 13.30
9 Round
18.00
Award ceremony
22nd August
Wednesday
10.00 – 13.30
Blitz
18.00
Award ceremony
23rd August
Thursday
19.00
Closing ceremony of 2nd WMSG
24th August
Friday
 
Departure of participants
 Prizes:
In each of all events the top three players will receive a World Mind Sports Games Gold, Silver, and Bronze medals.
In addition the Section 64 FMJD will offer a prize fund €10000.
Event

Prizes, €

1
2
3
4
5
6
7
8
Total
Men
WMSG
1800
1000
700
400
350
300
250
200
5000
Blitz
350
200
150
120
100
80
 
 
1000
Women
WMSG
1200
700
500
300
200
100
 
 
3000
Blitz
350
200
150
120
100
80
 
 
1000
 Venue
The playing venue will be in Congress Centre "Grand Palais", the Jeanne de Flandre #2 Room. This can be viewed athttp://www.lillegrandpalais.com/visite_virtuelle/
Accommodation
IMSA have negotiated very good rates with some hotels , within walking distance from Lille Grand Palais the Congress Centre.
See the list of recommended hotels where rates has been negociated.
 Travel
3 international airports nearby:
-Lilleairport is just 10km from the town and has many European connections.
– Charles de Gaulle airport is connected toLilleby a fast and efficient train service (45minutes)
-Brusselsairport (40 minutes)
France's most important rail region:
– 2 international Railway stations.
 Announcement