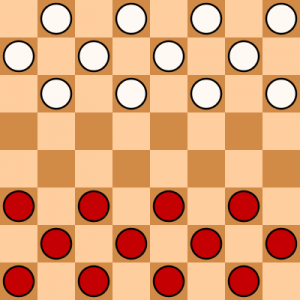 The game of Pool Checkers is popular in many countries, from Africa and Europe to Americas and Carribean Islands.
Pool Checkers is one of the three (together with Russian and Brazilian draughts) major variations where checkers can jump back and kings move multiple squares.
See more information about Pool Checkers HERE 
News from countries developing various kinds of draughts-64 including  pool checkers
Africa
Uganda

  Two players Dan Isabirye  and Sam Senoga participated in the World Men Draughts-64 Championship 2013 in  St. Petersburg, Russia.
National Draughts Championship 2014 of Uganda (Poolcheckers)  26/01/2014,  Mbale, Uganda
Youthful participant of the World Men Championship 2013 in St. Petersburg Sam Senoga from Seeta Club won.
 Malawi

Site http://admamalawi.weebly.com/

This ADMA Activity Calendar booklet has been designed to give an insight of all sports developmental activities that The Association of Draughts in Malawi has planned to carry out during the 2013 – 2014 fiscal year with the support from the Government of Malawi through the Malawi National Council of Sports and also the support from Well Wishers.
ADMA has lined up the following activities to be done within the period stated above
1.       Purchase of Draughts Materials
2.       Regional Leagues
3.       Draughts at Grass Roots
4.       Club Visits
5.       Senior Draughts Work Shop
6.       2nd National Tournament
7.       Draughts in prisons
8.       African Pool Championship 2014 in Zambia
See full text of booklet  HERE