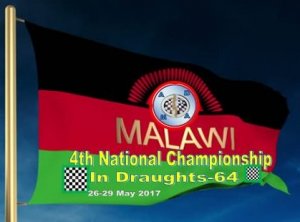 4th National Championship of Malawi was held at Chisale Motel, Nchesi Township in the capital city of Malawi, Lilongwe. 32 players who qualified from all regions of Malawi including two Masters Moses Winesi and Enock Makoka Banda participated in the championship. Swiss system with 9 rounds was used by the help of Tournament Manager Progam and the Draughts variant was Pool Checkers Classic with the time control 25 Minute and 3 sec on the game for each player.  Championship was qualifying for World Draughts-64 Championship, which will be held in St. Petersburg (Russia) in October 2017.
Madalitso Thom Baba with 14 points became the new Malawi Champion, International Master Moses Winesi took 2nd place and Zalimba Chingoni took 3rd place.  IDF Master Enock Makoka Banda finishing on position 4 only.
Malawi Champion Madalitso Thom Baba has gained the title of IDF Master, qualified for World Draughts-64 Championship, and will access financial support from the IDF when he will be travelling to Russia to participate in the World Draughts-64 Championship.