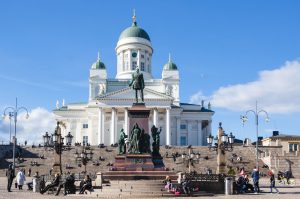 International Draughts Federation (IDF) together with the Finnish Draughts Association «Tammipelin ystävät ry» in accordance with the calendar of the IDF competitions 2019 for the first time holds in Helsinki, the capital of Finland International competition in draughts-64 "Helsinki-2019". Invitation published.
Information about competition
Information about competition
Place, date
Competitions are held in Russian Center for Science and Culture in Helsinki at: Nordenskiöldinkatu 1, 00250, Helsinki (Finland).
Dates: from April 5 (arrival day) to April 8 (departure day) 2019.
Credentials Committee will work April 6 from 11.00 till 11.30.
Opening ceremony will be April 6 at 11.30. The competition starts at 12.00.
Continuation of the competition on April 7 from 11.00. Closing at 15.00.
All participants must have medical insurance for the period of competition.
Participants
All participants regardless of gender, age and rating are allowed to participate in the competition who timely filed an application for participation, registered in accordance with this regulation and paid the tournament fee. The number of participants representing the country is not limited.
Participants must comply with the dress code.
Participants must to be on the opening and closing ceremony of the competition.
In case of absence the closing ceremony, participants lose all official awards. Awards will not be sent or transferred.
Tournament regulations
Competitions are held on the official rules of the IDF.
Competitions are held on the Swiss system, by the system of micro-matches from two games with a draw of the initial moves and positions according to the official table (745 positions), obligatory in both games of micro-match.
Time control is 7 minutes till the end of the game + 3 seconds per move for each participant in each game of micro-match.
Determination of the winners
Places of players are determined by the biggest amounts of points. In case of equal points of two or more participants the additional criteria are established by the panel of arbiters according to the regulations of the competition.
According to the results of the competition, winners are determined among men, women and juniors born in 2000 and younger.
Awards
Participant who took 1st place in competitions is awarded with cup, medal and diploma.
Participants who took 2nd and 3rd place in competitions are awarded with medals and diplomas.
Prize-winners among women and juniors are awarded with diplomas and memorable prizes.
Prizes will be announced by the organizers at the opening of the competition.
Finances
All expenses for travel, accommodation and meals of participants are paid by the sending organization or the participants themselves. The costs of organizing and conducting the competition are paid by the Organizing Committee.
The participants make their own booking of accommodation.
Entry fee is 30 euros, participants from Finland are allowed without a fee.
Applications
For participation in competitions, contact with the IDF office, e-mail: [email protected]
Applications for participation in competition must be submitted until March 29, 2019.