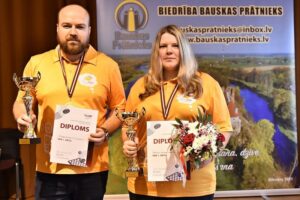 From 8 to 10 October, the finals of the Latvian draughts-64 championships among men and women were held in the cultural center of Bauska. The competition was attended by 9 participants in the women's competition and 10 participants in the men's. The tournaments were held in a round robin system, micro-matches of 2 games, time control 25 minutes + 10 seconds. Robert Misans and Marija Magdalena Nereda became the champions of Latvia 2021!
In the women's competition, the national master Marija Magdalena Nereda was in the lead throughout the tournament and with a score of 15 points became the champion of Latvia for the first time. The second and third places with 14 points were shared by two participants. According to additional criteria, the national grandmaster Antra Valnere took the second place, in the third place is the multiple champion of Latvia, national grandmaster Regina Pironena.
In the men's competition, the main contenders for the title of Latvian champion were grandmasters Roberts Misans and Guntars Purvins. Leading the entire tournament, Roberts Misans became the champion of Latvia with 15 points. Multiple champion of Latvia Guntars Purvins with 14 points took the second place. In a bitter struggle, the young talented Christers Lapins took the third place with 12 points. This is the first time he has achieved such success, thanks to which he will be awarded the title of National Master.
Latvian Draughts Federation site