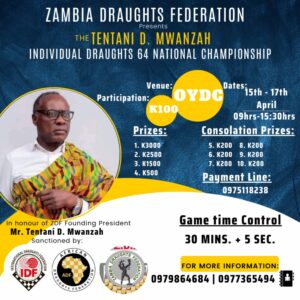 Zambia Draughts Federation held on 15th to 17th April 2022 in Olympic Youth Development Centre of Lusaka, capital of Zambia, the Tentani D. Mwanzah Individual Draughts-64 National championship in honor of ZDF Founding President Mr. Tentani D. Mwanzah.
15-old William, Chinzewe became the new Zambia champion and received the title of IDF master!
Elijah, Chanda took 2nd place, international grandmaster and African champion 2016 Richard, Mwamba took 3rd place.
William Chinzewe has grown significantly in terms of sport over the past four years has become a world-class player.
His next goal is to win the African Championship and become an International Grandmaster!