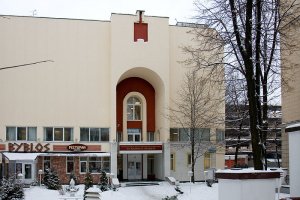 Championships of Belarus among men and women was held from 23 till 31 May 2016 in the Republican Center of Olympic training for chess and draughts (Minsk, str. of Marx, 10). Andrey Valyuk won among men. Vera Hvaschinskaya won among women.
Results
Men:
1. IGM  Andrey Valyuk (Minsk)
2. IGM  Igor Mikhalchenko (Volkovysk)
3. IGM Eugenii Kondrachenko  (Gomel)
Women:
1. WIM Vera Hvaschinskaya (Bobruisk)
2. WIGM Daria Fedorovich (Minsk)
3. WNM Yana Yakubovich (Minsk)
You can look full results of the competitions on the website of the Belarusian Draughts Federation HERE
Information about tournament
23 May – 16.00-16.20 – registration; 16.30 – opening; 17.00 – the first round.
List of participants
Men:
1. IGM  Igor Mikhalchenko (Volkovysk)
2. IGM  Andrey Valyuk (Minsk)
3. IGM  Arkadii Plakhin (Minsk)
4. IGM Eugenii Kondrachenko (Gomel)
5. NM Dmitrii Nemets (Minsk)
6. FM Vitaliy Aniska (Minsk)
7. IM Sergei Sadovskiy (Grodno)
8. IM Aleksei Kunitsa (Minsk)
9. IM Mikhail Semenyuk (Minsk)
10. NM Oleg Chepa (Minsk)
11. FM Vitaliy Novikov (Vitebsk)
12. NM Vladimir Belyaevskiy (Minsk)
Women:
1. WIM Vera Hvaschinskaya (Bobruisk)
2. WIGM Daria Fedorovich (Minsk)
3. WIM Anastasia Baryshava (Minsk)
4. WFM Aleksandra Spirina (Minsk)
5. WNM Yana Yakubovich (Minsk)
6. WNCM Irina Kurtsova (Vitebsk)
7. WNCM Yana Lazovik (Minsk)
8. WNCM Viktoria Nikolaeva (Minsk)
9. 1 cat  Elizaveta Dagil (Lida)
10. WFM Ema Makarevich (Grodno)
11. WNCM Maria Chesnokova (Minsk)
12. 1 cat  Polina Kozlova (Minsk)