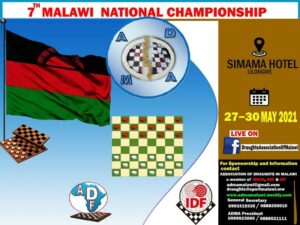 Malawi conducted its 7th National Men's Championship and 1st Women's Championship at the Simama Hotel in the capital of Malawi, Lilongwe, from 28 to 30 May 2021.
The men's championship was attended by 48 athletes from all over the country.
9 athletes participated in the women's championship.
The Malawi champions were Enock Banda in men and Suzeni Kachepa in women.
02-06-2021 Malawi conducted its 7th edition of National championship for men and first Women championship at Simama Hotel in the capital city Lilongwe from 28-30 May 2021.
The mens' championship attracted 48 athletes from all corners of Malawi while 9 ladies participated in the women championship.
In Mens category International Master Enock Banda strappingly won the championship in style with undefeated record, he won 8 rounds and drew one amassing 17 points. He went away with cash prize, gold medal and trophy.
Among his victims were FM Madalitso Thom and the second best Solobala Gama.
On second position was Solobala Gama a non-title player with 14 points while FM Madalitso Thom finished third with 12 points.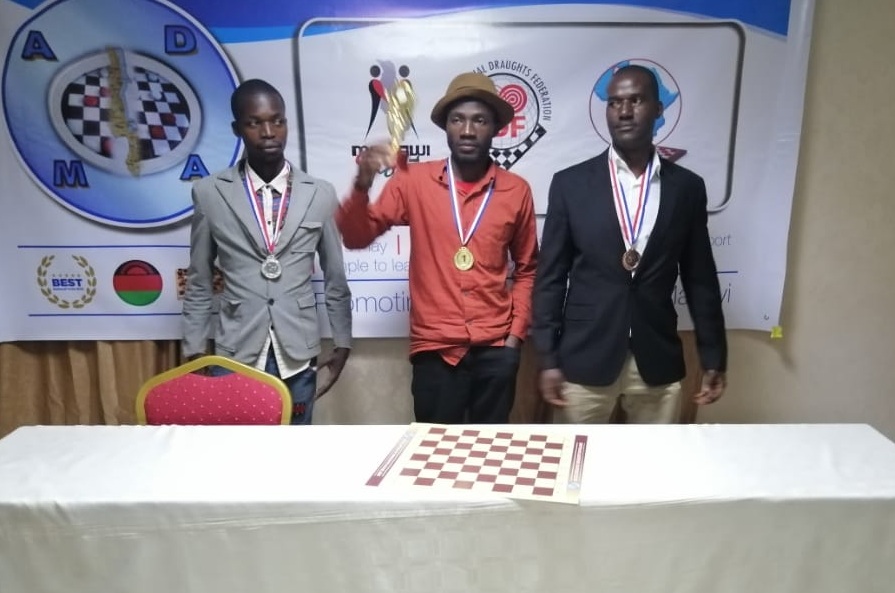 In the women category Suzan Kachepa was the champion after beating all 8 ladies and amassed 16 points while on second position was Emma Matiyasi with 12 points and on third position was Rahim Victor with 10 points.
The Association of Draughts in Malawi is excited to have successfully conducted the first ever women tournament which is inline with government policies for all sport associations.
25-05-2021 Everything is ready for the start of the 7th Malawi National Championship, which will take place May 27-30, 2021 at the 4-star Simama Hotel in Lilongwe, the capital of Malawi.
The Honaourable minister of sports is likely to officially open a championship.
The Journey to the finals started at district level and those that qualified went on to compete at regional level where only the best emerged for the national finals.
Over 50 athletes are expected to outwit each other in a last man standing match.
For the first time the championship will be broadcast live on ADMA Facebook page and on ADF Facebook page.
To make the championship even tougher and intriguing organizers have invited, through Zambia Draughts Federation, top three of Zambia best athletes who are expected to play as guests.
These are Mathews Makina current Zambia number 1, William Chizewe current Zambia number 2 (A 16 year draughts genius) and The Veteran Mr Mwaaza Sakala current Zambia number 3.
All Malawian masters, IM Moses Winesi (Current Malawi Champion), IM Enock Banda, current African Best and FM Madalitso Thom, current Central region Champion are among the athletes that have qualified for the finals
This is probably the fiercest and most volcanic championship Malawi has ever conducted.
Come and watch.
Below is a list of athletes that are competing in the championship